First Impression
Just as SMOK came out with the Micro TFV4 Tank after first releasing the regular TFV4, they decided to come out with the TFV 8 Baby Beast tank in order to similarly complement its big brother. The baby beast is portable and convenient, and with its new set of improved coil heads, it's vaping better than ever. We weren't sure whether it was worth SMOK's time and effort because, after all, it is just a smaller version of a tank we already have. A lot of our customers who enjoy their Baby Beast tanks wrote in to ask us about whether they think it was worth to get the second version as well, and so we decided to find out for you. Our team at E-Cig Brands loves the TFV8, and so we gave the newest member of the Cloud Beast family a spin to see whether he has the capacity to live up to his older siblings or whether he'll be forced to remain the runt of the family. Read on to see what we have to say.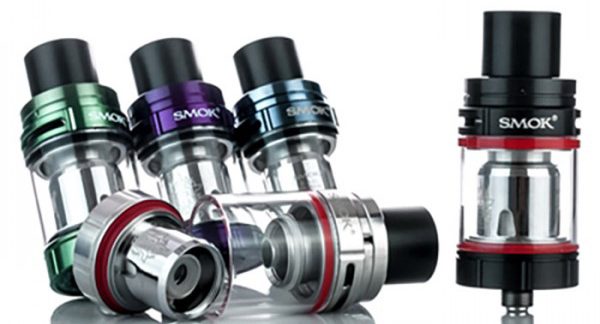 SMOK TFV8 X-Baby Kit
The Micro TFV8 tank comes with the sub-ohm tank, a Q2 core 0.4Ω dual coil atomizer head, which is pre-installed, an extra 0.25Ω dual coil atomizer head, a replacement glass, and some o-rings and vape bands. It does not come with an RBA kit though you can purchase your own if you wish.
Specifications
Size: 59mm x 24.5mm
Diameter of Tank: 24.5mm
510 Threaded Connection Port
Tank Capacity 4mL
Top Fill Swivel Construction & Large Fill Hole
Wide Bore Delrin Drip Tip
2 Adjustable Airflow Control Slots
Made From Stainless Steel
Various Colors: Red, Purple, Blue, Gold, Stainless Steel, Rainbow, Green, Black
SMOK TFV8 X-Baby Design & Features
The TFV8 X-Baby kit contains many of the same features present in the previous version. The new tank holds about ⅓ less than the original tank, but the mini version really looks quite a bit smaller. If you set them next to each other, you can really see a stark difference, but that's one aspect of this new tank we really appreciate. In today's mile-a-minute paced world, we don't have time to be lugging around clunky tanks. Most mods these days have ports with diameters no larger than 22ml, and so the TFV8, is simply too large. If you're looking for a tank with the power of the TFV8 that fits more mods, then you're going to love the micro version.
The top of the tank has a swivel cap that moves to the side so you can fill via the hole drilled through the top. Unfortunately, the cap is rather stiff when it first comes, but it should loosen up after a few uses at which point it does swivel back and forth more easily. We did love the swivel top because it made it far simpler to fill up the tank. All you really have to do is swivel and drip and you're ready to go.
Performance
The 0.25Ω coil that comes packed with the kit is designed to vape from 50-110W although the recommended range is 60-80W. The V8 coils really do make a difference, and with this kit, you're going to get a perfect combination of flavor production and vapor production. No longer will you have to choose between the two. Here at E-Cig Brands, we tried the vape at 65W with this atomizer and then again at 80W. Overall, we preferred the lower wattage, but the differences were, admittedly, marginal. Of course, make sure that, like usual, you are priming your wicks well before vaping to make sure you don't take any dry hits.
You can adjust the airflow on the bottom of the tank, and there are slits on either side allowing you to customize your vape precisely to your needs. Whether you prefer a mouth-to-lungs vape or a direct-to-lungs vape, this tank can make it happen.
Even though the tank is small, it is a sub-ohm model, so it can handle high VG juices. We did notice a slight cottony taste to it with the first couple of draws, but it disappeared after that. Typically it would take an entire tank before breaking in a set of wicks, but we were able to break in the TFV8 X-Baby after only a couple minutes.
Overall
If you already have the TFV8, and you're looking for something to use with your smaller mods, then the TFV8 X-Baby Sub-Ohm Tank might be perfect for you. You won't break the bank while getting a second tank, and it's size will allow you to use it for different purposes. While you may want to use the TFV8 for all-day vaping because of its enormous tank capacity, it's mini-me may prove to be more convenient depending on the occasion. We do wish SMOK included an RBA kit in the kit, but otherwise, we really loved this tank.
Now It's Available :SMOK TFV8 X-Baby Top Airflow Tank
Hot Sale Recommendation:
Voopoo Vmate 200W Kit With Uforce T1 Tank